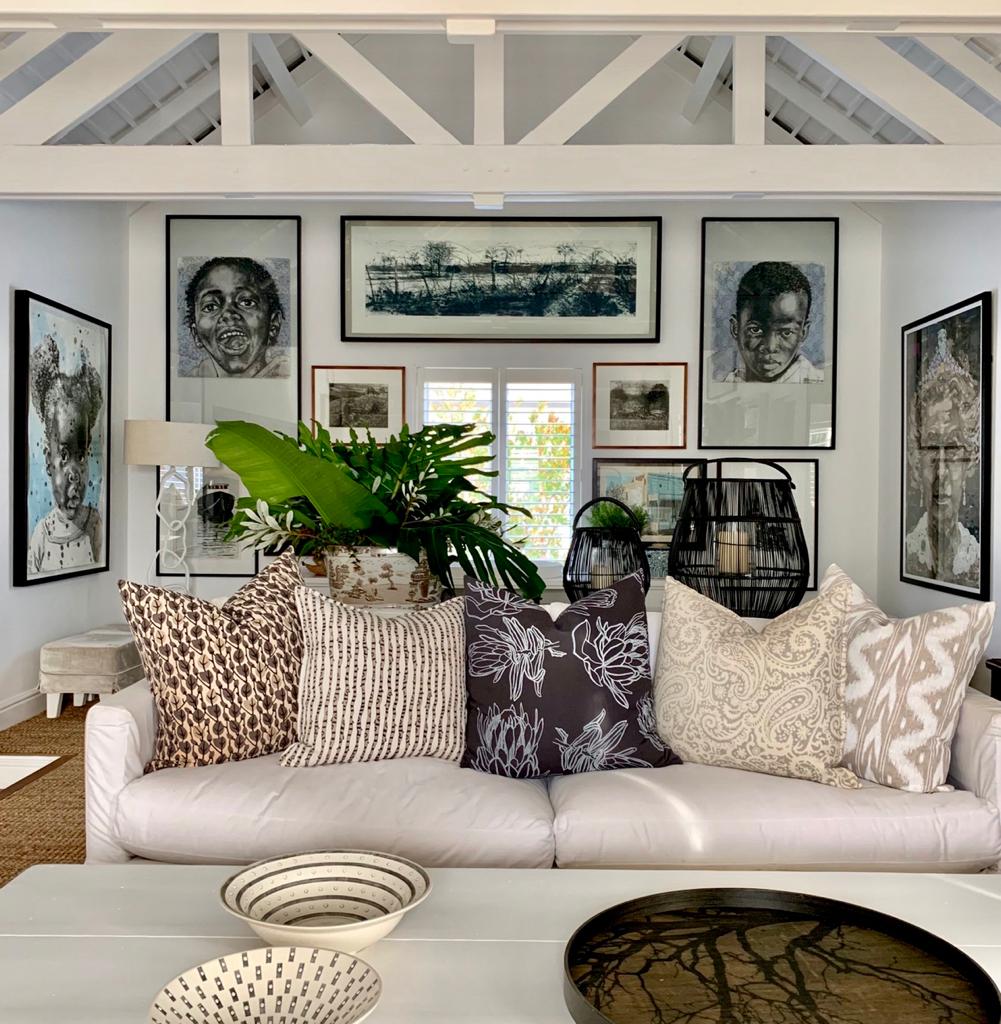 25 May

Everything Sue Bond

Today we have the pleasure of chatting with the lovely Sue Bond, sadly it's a virtual date rather than afternoon tea on her sunny patio overlooking Cape Town. Sue's energy seems to invigorate any space she's allowed to wave her wand over, her eye for layering patterns and rich colour palettes is self-taught. A love of wallpaper, African art and abundant flower arrangements, are "Sue" touches, that have left their mark in private homes across the Cape and internationally. Sue chats to us about how she fell in love with her now signature palette of white and blue, and how she has found herself creatively energised by the disruption of her daily schedule during the lockdown.

Q: LET'S START AT THE VERY BEGINNING: WHAT DID YOU WANT TO BE WHEN YOU GREW UP? AND WHAT DID YOU STUDY?

A: Surprisingly I wanted to be a teacher for as long as I can remember. So off I went to Wits in Johannesburg in 1981, to be a guinea pig in their first teaching degree offered at a University in South Africa!

Q: WHERE DID YOUR CREATIVE JOURNEY BEGIN AND WHEN DID YOU REALISE THIS WAS YOUR CALLING? DID YOU HAVE A "BIG BREAK"?

A: My creative journey began in my teens. Growing up in a house where my Mom was a wedding planner, I was surrounded by beautiful fabrics, flowers and exquisite cakes. My love for houses enticed me to become a real estate agent, which I absolutely loved. Working collaboratively with my clients to get their properties staged for selling was a little ahead of the current thinking then. One day a buyer insisted I project manage all the alterations and interiors I had suggested for her new house… and so my design business began.

Q:WHAT HAVE BEEN SOME OF YOUR BIGGEST CHALLENGES IN GETTING TO WHERE YOU ARE NOW, AND HOW DID YOU OVERCOME THEM?

A: Living in South Africa I found the product available to me 22 years ago very limited. I think this is how my bespoke approach to interior started. Sourcing from hidden gems and getting furniture custom made for a project has always made it possible to realise my vision for the Client.

Q:WHAT ADVICE WOULD YOU GIVE TO THOSE JUST STARTING OUT ON THEIR CREATIVE JOURNEY?

A: Starting out in design today I think the industry is so much more professional. To be technically current and true to your own style would be my advice to anyone venturing into our field. There is about 5% glamour and 95% hard work – be prepared!

Q: TELL US ABOUT THE PICTURE YOU HAVE SENT US?  WHAT IS SPECIAL FOR YOU IN THIS AREA OF YOUR HOME:

A: The kitchen is the heart of my home, my husband enjoys cooking, our daughter is the baker and when our son is home from London he is happiest here. My favourite aspect of the kitchen is the giant protea wall-treatment, hand-painted on Belgian linen which is an expression of my love for flowers and is a testament to the way South African design and art has evolved. Throughout my life I have been known to collect a bowl, platter, jug or teapot in every new destination I am lucky enough to explore and so I specially designed open shelving where I could stack and display them. I have always loved an open plan kitchen with freestanding units that make the space inviting. This mood in my kitchen is enhanced by my choice of lighting, in this instance I have chosen to repeat three huge white wicker chandeliers. This is where you'll find us.

Q:WHAT ARE YOU DOING AT HOME TO KEEP BUSY? IS THERE ANYTHING YOU HAVE TAKEN ON TO CHALLENGE YOURSELF DURING THIS TIME?

A: Currently, the whole family are involved in supporting an organisation which run the most wonderful feeding scheme! Ladles of Love have shown me that this extreme deviation from my everyday routine has been profoundly rewarding. My personal creative challenge has been creating an artwork in the form of a collage. Lockdown meant I could not purchase art supplies, which motivated me to recycle a cardboard crate, favourite blue and white wallpaper offcuts and my shopping packets collected from my travels which I had sorted out when I was cleaning out my drawers. Pattern on pattern is my mantra and layer upon layer eventually culminated in a far more detailed and intricate protea than I ever imagined I could create.

Q:HOW HAS THE PANDEMIC AFFECTED YOUR BUSINESS, AND DO YOU SEE YOUR BUSINESS CHANGING OUT OF THIS EXPERIENCE?

A: Yes, as designers so much of our work is done on-site. Meeting personally with suppliers and manufacturers and of course, our Clients has been a no go, and zoom meetings just aren't the same! I have had to keep orders in check, programme carefully for when I open again and keep inspired by staying in touch with the industry. I don't think there will be one of us unchanged after this experience. I am going to try my best to support local suppliers and craftsmen as much as possible to give our trade a much needed boost.

Q: WHAT IS THE BEST ADVICE YOU HAVE EVER RECEIVED, EITHER PROFESSIONALLY OR PERSONALLY?

A: Never live with regret! An interior or build could always have been better or different, but be satisfied with what you were able to do at the time!