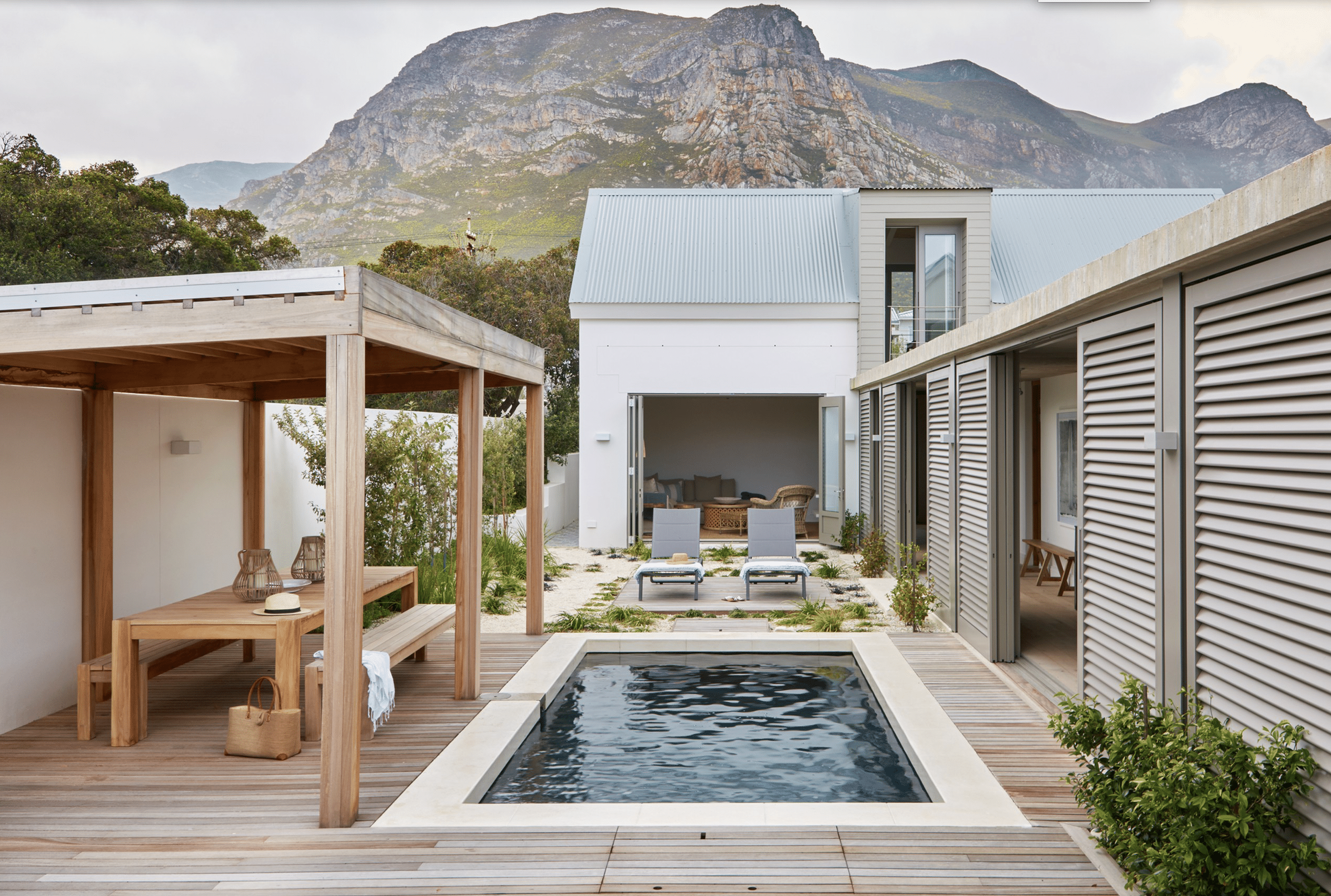 29 May

At home with Karen Newman

Today we are talking to Karen Newman from Newman Architecture and Design. A Cape Town-based architectural firm, their small team of architects and interior designers is doing wonderful things in and around South Africa, and in Africa! Their work is always defined by an incredible attention to detail, a classic timelessness, beautiful, natural finishes and materials and a light-heartedness that makes each house feel like home.

Q: LET'S START AT THE VERY BEGINNING: WHAT DID YOU WANT TO BE WHEN YOU GREW UP? AND WHAT DID YOU STUDY?

A: I was a carefree, small country-town child who spent most of her holidays on the family farm or at Hermanus at Christmas time. I loved the outdoors and sport and I didn't really spend much time in the art room. I made my own clothes and watched my mother as a passionate gardener, but I never thought that I was particularly creative! I knew I was very practical. I thought I'd follow my dad into law, but I also considered medicine.

An aptitude test in my Grade 11 year strongly suggested a combination of creativity and mathematics. I was quite surprised by the suggestion from the councillor that I should look into architecture.

Q: WHERE DID YOUR CREATIVE JOURNEY BEGIN AND WHEN DID YOU REALISE THIS WAS YOUR CALLING? DID YOU HAVE A "BIG BREAK"?

A: The intervention of the career councillor was an absolute game-changer. Once I investigated a degree in architecture a bit more, I became hooked on the idea. I loved the combination of creative thinking with gravity as a challenge. Both the engineering and creative part of the curriculum appealed to me.

I went to another small town to study: to UPE in Port Elizabeth (now NMU).  Here I could continue with the balance of amateur sport and my studies. The Eastern Cape grows on you, it's not obvious to the eye when you arrive there at first. I loved my 5 years there.

I actually had 2 breaks:

The year after I finished my studies I got a job in London to do my practical training in a very small and nurturing office. Here I learnt as much about design as I did about how an office works. Because we were a small team and I was the youngest, I did everything!  Very quickly I could see how things work and I was also exposed to the clients and to the interesting projects in the office. I could relate to the work as it was mostly residential and small commercial projects. My first job was to design a bin-enclosure in the driveway of a very smart house in Holland Park!

My 2nd break was in 1995 when we came back from the UK to live in SA and I decided to start my own business rather than find a job in an office. We had bought an old house in Johannesburg and my first commission was to fix it up. My husband and I made a good team and we have continued to do projects together since then. To this day he jokingly says he "put me on the map" and "taught me everything I know".

Q: WHAT HAVE BEEN SOME OF YOUR BIGGEST CHALLENGES IN GETTING TO WHERE YOU ARE NOW, AND HOW DID YOU OVERCOME THEM?

A: Starting my business in the "new South Africa" in the mid-'90s was actually the right time to get going. The biggest challenge has been to balance family life and work. I've been a working mom and I'm grateful that the architectural profession has given me the flexibility to traverse this line. In our line of work we can regulate what projects to take on and when, so despite other demands, I have managed to always do my projects.

Q: WHAT ADVICE WOULD YOU GIVE TO THOSE JUST STARTING OUT ON THEIR CREATIVE JOURNEY?

A: Doing the admin side of things well is almost as important as being creative. Don't underestimate the importance of self-discipline, the creativity will then speak for itself.  From the start you must have good systems in place, communicate well, be proud of your work environment, nurture your clients, build a good team around you, and be organised!

Q: TELL US ABOUT THE PICTURE YOU HAVE SENT US?  WHAT IS SPECIAL FOR YOU IN THIS AREA OF YOUR HOME:

A: This cabinet in an inherited piece from my husband's parents and is very close to our hearts. I also think it summarises my design philosophy quite accurately: timeless, simple, clean lines and fine detailing. From a distance it looks like a simple, timeless piece – but when you look up close you see the beautiful details and workmanship.

Q: WHAT ARE YOU DOING AT HOME TO KEEP BUSY? IS THERE ANYTHING YOU HAVE TAKEN ON TO CHALLENGE YOURSELF DURING THIS TIME?

A: We're very lucky to continue with our projects at the moment, and there has been very little idle time.  Our office team "meets" every morning at 10am, and then we go through our projects and I am keeping a very close eye on progress. We are also making sure our clients are kept informed about our work, and we are spending more than the usual time reaching out to them – sharing inspiration and ideas and keeping them in the loop on their project progress.

In my personal time, I've embarked on a small embroidery project…it's brought back all those memories of making my own clothes when I was still at school!  I've loved it and it has been very therapeutic.  Then there has also been the obligatory sorting out of cupboards, photo-projects, cooking yummy food etc.

I've really loved the quietness and tranquillity of our home – no rushing to the next place or the next meeting or the next social arrangement. But somehow I'm still often 1 or 2 minutes late for my zoom meetings!

Q: HOW HAS THE PANDEMIC AFFECTED YOUR BUSINESS, AND DO YOU SEE YOUR BUSINESS CHANGING OUT OF THIS EXPERIENCE?

A: There is no doubt that the industry will be very hard hit.  Already it was difficult and Covid-19 is now bringing it to its knees. Contractors will now also have to think about how to adapt to their protocols on site.  I think this will be a good development: more safety and respect for individual workers.

Architects will inevitably be affected by a downturn in the economy.  In the coming years, things might not be easy and it might take longer for this cycle to turn around.  It is a big concern.

We are looking at our current projects with great enthusiasm and will make sure that they are the best we've ever done. We are throwing ourselves into these and it is very rewarding.

NAD is a small team and we are made up of resilient individuals. We are in it together. We have diversified in the last few years with an expansion from architecture into interior décor and we will most probably look for ways to continue to adapt. No project is too small for us….so we will tick along and make the best of it.

Q: WHAT IS THE BEST ADVICE YOU HAVE EVER RECEIVED, EITHER PROFESSIONALLY OR PERSONALLY?

A: In these times, the word "vasbyt" comes to mind. There is little that one can do right now about the state of the world. I was brought up to be an active citizen and I am a passionate and committed South African, this carries me as a person through life.