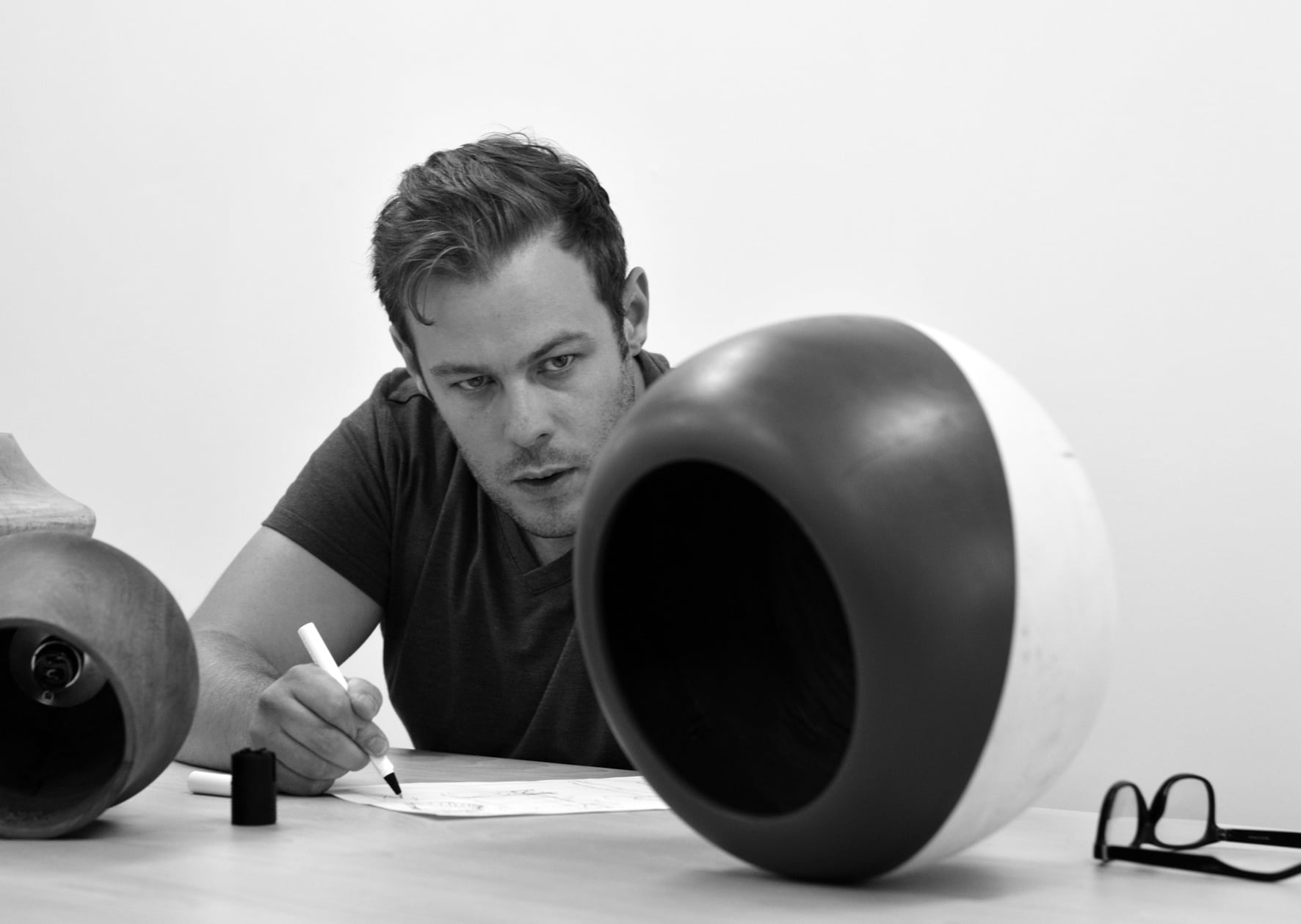 04 May

At Home With Timothy Vandenbroeke

Q: Let's start at the very beginning: What did you want to be when you grew up? And what did you study?

A: Growing up I wanted to be an architect, but instead became more fascinated in design. I then proceeded to obtain a Bachelor's Degree in Interior Design from the Saint Lucas Academy in Gent/Belgium.

Q: Where did your creative journey begin and when did you realize this was your calling? Did you have a "big break"?

A: I loved drawing from a young age. For as long as I could remember, I would walk around the house with paper and pencils drawing anything I could see or imagine, and I always enjoyed it. Later, around 15-16 years old, I developed a love for street art and graffiti, which also led to a 6-month apprenticeship program and a Master's Degree in Screen-printing.

Q: What have been some of your biggest challenges in getting to where you are now, and how did you over come them?

A: After working for 3 years in various architecture firms, and 6 years in an interior design company in South Africa, my biggest challenge was making the decision to stay in South Africa and start my own Interior Design company.

Running a business under such a volatile economy has proven to be a challenge, but we have overcome these challenges by remaining focused on providing quality products and services for our clients .We achieve by offering turnkey services – from custom design, manufacturing and production, as well as project management.

Q: What advice would you give to someone just starting out on their creative journey?

A: Go for quality not for quantity. Quality will always pay off and play in your benefit in the long term.
Surround yourself with the best team and empower each other. Collaborate on different aspects in the industry. Keep designing, keep creating!

Q: Tell us about the picture you have sent us? What is special for you in this area of your home.

A: The House we live in is still under renovation; every time we have some savings we try to tackle one or two projects in our home. The picture I have sent you is of our new open-plan living and dining room. We removed a wall between our dining room and lounge and replaced it with a frameless glass balustrade. This has made the world of difference to our lifestyle, with light flooding in and the open-plan arrangement allowing us to be more connected as a family.

Q: What are you doing at home to keep busy? Is there anything you have taken on to challenge yourself during this time?

A: We have two sons, 6 and 4 years old, and they can keep us super busy:
Home schooling – fun learning for the kids
Cooking lessons
We made big canvas paintings together as a family for our home.
My Wife and I have also taken on a de-cluttering challenge during this time, from de-cluttering our computers, to our phones and our home.
I am trying to pick up some photography again, as well as digitally re-working some of my images in Illustrator and Photoshop – something I enjoyed doing a lot in the past but lost touch with over time.
Q: How has the pandemic affected your business, and do you see your business Changing out of this experience?
A: It will defiantly impact and change all of us:
Production and site work is completely at a stand still
We are all working from our homes, its only the design department still continuing.
However this experience has really forced us to look into our homes and value our spaces.
This will change the demands from our customers and the demand for more functional spaces, like offices, storage spaces and multi functional furniture.
The future of design is still bright, however the design perspective will evolve tremendously and transform to meet the needs we face today. I am very optimistic and look forward to this new chapter in design.
Q: What is the best advice you have ever received, either professionally or Personally?
A: PROFESSIONALLY: Do the work others aren't willing to do and you'll get the things others will never have.
PERSONALLY: Never convince yourself why you failed, accept your failures and bounce back
LATERALE: About us
Born out of a shared passion for art, design and architecture, Laterale was founded in 2015 by two Belgian friends: an interior designer and an architect.
Working within the wider creative industry, Laterale focuses its work on architecture, interior and furniture design. Its creations are the result of careful artistic research blended with innovation, quality and passion.
Laterale creates unique pieces that are the result of collaborations with professionals and artists from a variety of fields.