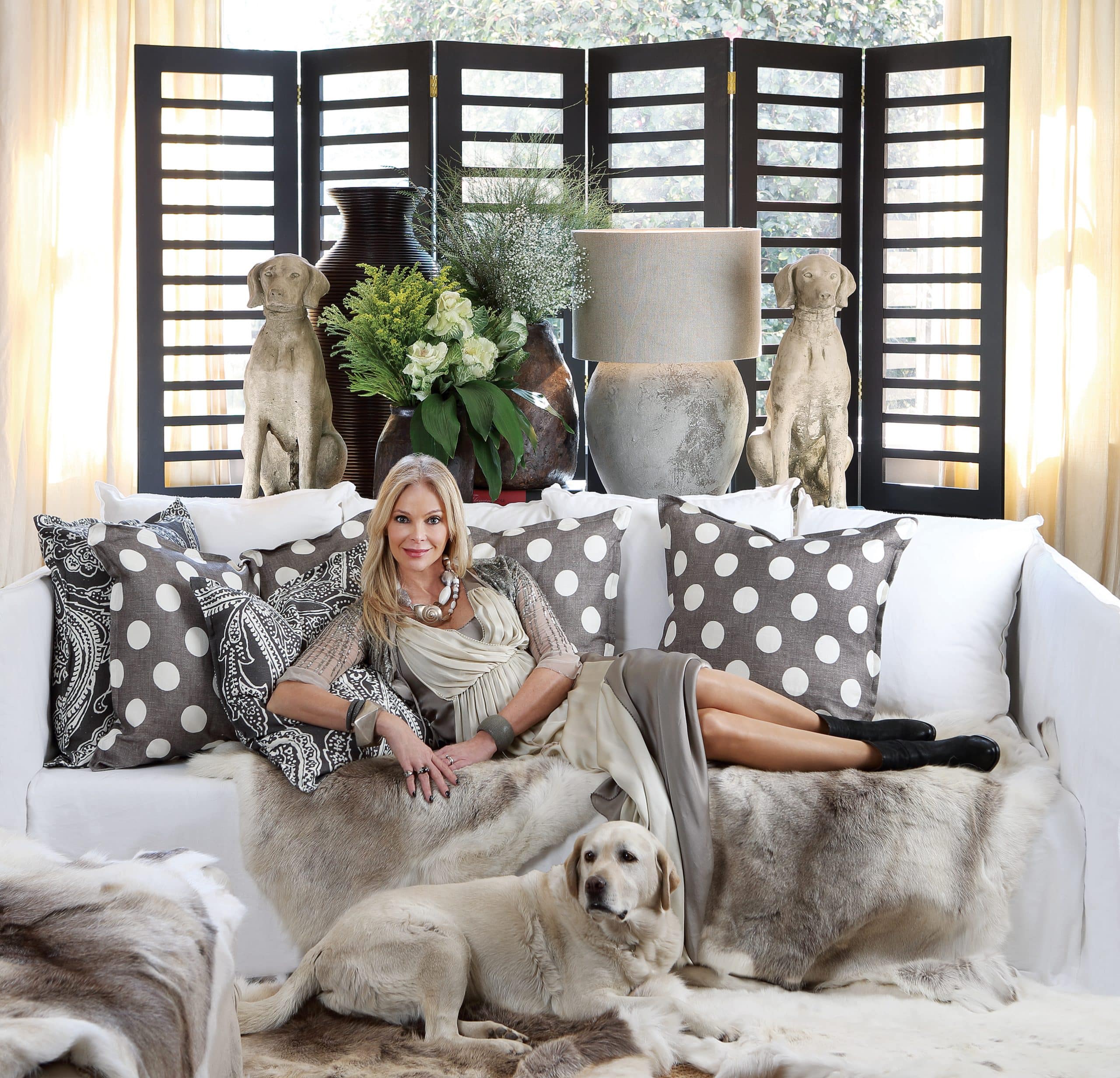 29 Apr

At Home With Tessa Proudfoot

Q: Let's start at the very beginning: What did you want to be when you grew up? And what did you study?

A: There was never I time in my life when I wasn't absolutely certain that I wanted to create beautiful homes and interiors! It wasn't until I was in my teens, though, that I was able to correlate this to an actual career: Interior Design. Unfortunately, there were very limited options available for the study of Interior Design in SA in the early 80's.

My parents encouraged me to get a university degree as a grounding so, of all things, I chose to do a Bachelor of Commerce at Natal University. I was entirely unsuited to this degree, of course, but I doggedly sat it out and eventually managed to drag myself through, majoring in Economics. I then went on to study Interior Design at The White House School of Interior Design in Cape Town. This was a very broad course but it taught me the basics of structure, proportion and presentation, which I have never forgotten.

Once I started working, I soon realised that no amount of tuition would ever teach me the skills I needed to reach what I considered to be the top in my field. It would only ever be experience and pushing boundaries that would lead me towards creating the type of work that I aspired to.

Thankfully, I have had the opportunity to work in this field for many years and gain invaluable experience, but the journey towards excellence is one that never ends. However, it keeps on inspiring me to new heights and I never fail to feel a rush of joy when a new project presents itself.

Q: Where did your creative journey begin and when did you realize this was your calling? Did you have a "big break"?

A: My creative journey began when I interned for Mario Rodrigues in Durban. Being exposed to his incredible style and courageous use of colour and proportion, not to mention his unique sophistication, made me realise that this was the kind of creativity that I wanted to immerse myself in. I wanted to learn how to push boundaries and explore everything there was to find in the way of creating magic in interiors. I have been extremely lucky to have worked for some amazing clients, but I would say that it was a gradual progression rather than a "big break" that got me to where I am now….

Q: What have been some of your biggest challenges in getting to where you are now, and how did you overcome them?

A: My biggest challenges have been, firstly, managing the business side of being a creative. It took a while to realise that I couldn't do it all myself and to employ the right people as my support structure. Secondly, learning to overcome the altruistic notion that everyone feels the same degree of personal passion that I do about their interiors. Very often clients just want a beautiful space that comes in on budget, they don't need it to be the front cover of World Of Interiors. Once I got my head around this notion, the pressure lifted and I found myself able to enjoy every project for what it was and not what I wanted it to be.

Q: What advice would you give to those just starting out on their creative journey?

A: My advice to anyone starting out in this field would be
Learn how to read your clients – very often it's what they don't tell you that becomes the key ingredient in fulfilling their brief.
Absorb as much as you possibly can from all available style sources. Then distil it down to find what really grabs you, and what will remain grabbing you for years to come.
Surround yourself with the best possible sofa makers, seamstresses and craftsmen. No amount of good design will cover for bad quality workmanship
Q: Please share with us a picture of an area or object in your home that is particularly special to you, and tell us a little about it?
A: Bella/library: This is one of my favourite spaces in my home…. Our library. Most importantly, this is one of the last photos I have of my beloved Labrador, Bella, who left us a few years ago so it is very special to me. The sofa, that I lie on at least once every day of my life, is one of the first items of furniture I ever purchased. It has been recovered countless times and moved into 4 different homes. The reindeer hides were purchased on a memorable buying trip to France a number of years ago and the pillows on the sofa are made from the Tessa Proudfoot Fabric Collection, produced in collaboration with St Leger & Viney (now rather sadly discontinued).
Q: What are you doing at home to keep busy? Is there anything you have taken on to challenge yourself during this time?
A: I have been doing online watercolour and drawing classes during lockdown, which I have really enjoyed. In the beginning, I was too overwhelmed and panicked by COVID19 and all it stood for to actually enjoy them, but once I started accepting the situation and realising that there was nothing I could do to control events I started to relax … and now I have drawers full of very mediocre watercolours and charcoal sketches that I will be forced to give to my friends and family!
Other than that I have spent a lot of time meditating and doing Pilates, stretching and yoga. All of which has challenged me physically and mentally (it's not easy to breathe deeply, think of nothing and centre yourself when your world is collapsing around you!).
Q: How has the pandemic affected your business, and do you see your business changing out of this experience?
A; Our business has been affected severely as prospective hospitality and lodge projects have been put on hold or cancelled outright; current projects have been delayed and obviously all of this plays havoc with cash flow. However, I believe that there will be a change in the way that people utilise their homes going forward which will mean that we will be called upon to re-imagine their current spaces to suit the new normal.  I think online purchasing will take off in a big way so designers are going to have to offer their skills digitally and this, in itself, will open up a whole new way of working. I think it's a challenging yet very exciting time that lies ahead for all of us.
Q: What is the best advice you have ever received, either professionally or personally?
A: Never leave home without a tape measure!