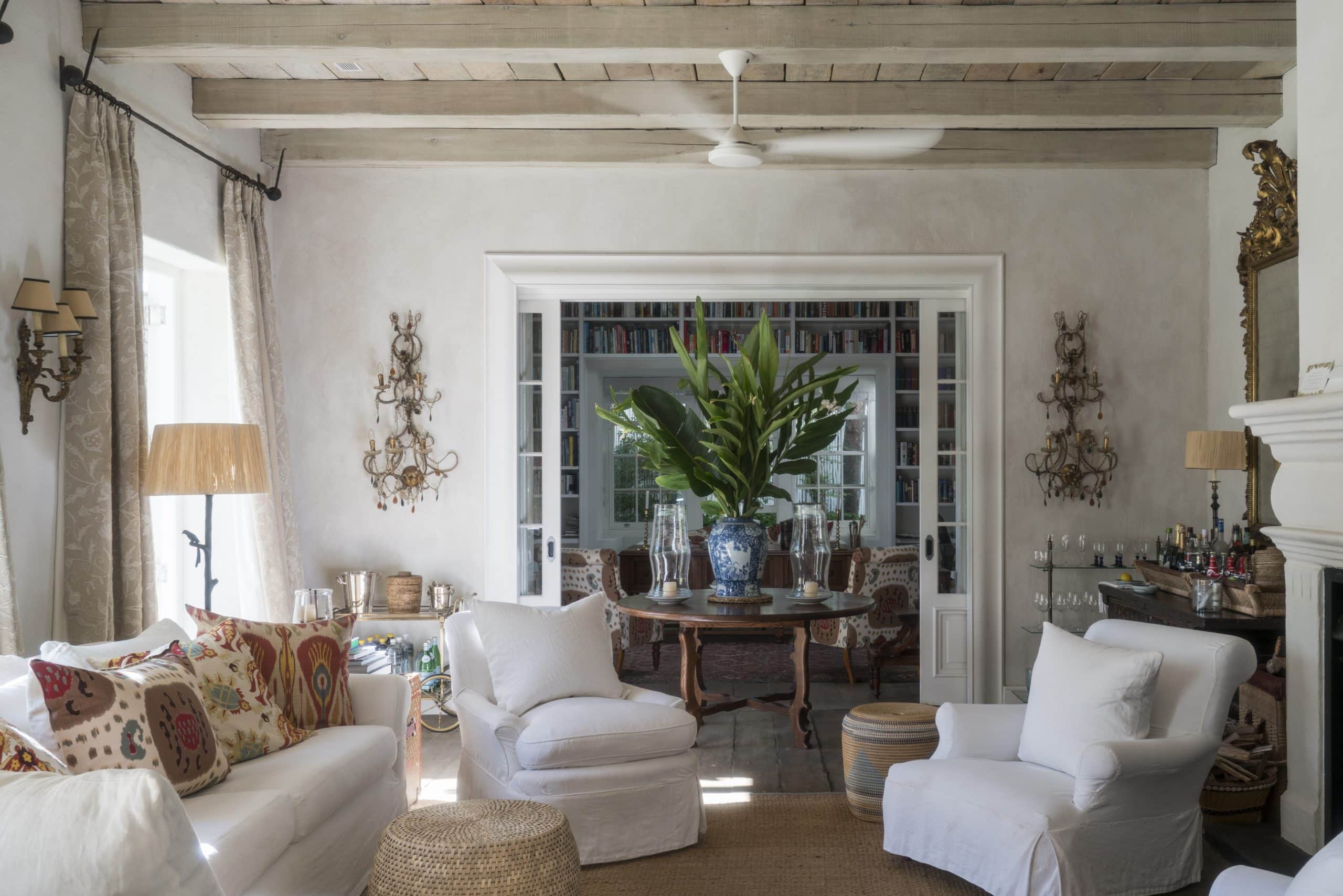 04 Jun

At Home With Serena Crawford

Serena Crawford is a South African-born, but internationally acclaimed, Interior and Building designer. Her work has been featured in the likes of Architectural Digest, Vogue Living Australia, House and Garden, South Africa, House and Garden UK. Conde Nast USA Traveller and Conde Nast Traveller UK. Serena's wonderful Instagram account is filled with daily images of beautiful homes, travels and fabulous people that keep one enthralled and inspired! It was a pleasure to hear her zealous account of her extensive studies and love for design and decorating.

Q: LET'S START AT THE VERY BEGINNING: WHAT DID YOU WANT TO BE WHEN YOU GREW UP? AND WHAT DID YOU STUDY?

A: Most of my education centred around things that would help me develop an eye. I'm so grateful as I loved every second of that time in my life.

I did an art foundation year in London and then went to Wits and read Fine Arts.

I won a post-graduate scholarship to Florence University in Italy in Architectural restoration. This year had a big impact on my taste and way of being. I'm still in love with Italy and all things Italian.

I did a years course at the Victoria and Albert museum in Decorative arts …and another year of Decorative Arts in Sydney.

I wanted to be a film director when I was young or at very least an art director. I was obsessed with film especially the style, the mood and the costume.

I worked in commercials as a freelance stylist where I designed the sets and cast the models and dressed them… that's the closest I got to the cinema.

Q: WHERE DID YOUR CREATIVE JOURNEY BEGIN AND WHEN DID YOU REALISE THIS WAS YOUR CALLING? DID YOU HAVE A "BIG BREAK"?

A: My creative journey with design really started when we got married. Murray bought the most incredible house in Plettenberg Bay that looked like a stone castle on the cliffs, the other side of the Robberg. It was derelict and falling to pieces when we started to decorate and alter this house 40 years ago. I fell in love with the process and the house. It was the most challenging house with a very strong personality. It has had an impact on all the houses I have built over the years. There was something so uniquely quirky and personal about it. It gave me a lot of confidence as everyone was madly in love with it. After that, I built my first city house in Sydney and that was my dream house as a young woman. Every house I have built since then has been an amalgamation between these two houses and the sense of place each house has brought to the design…. I have loved every single one of them. Now I'm designing in London as well and that's totally different altogether ….its's accepting what is, tweaking it and learning to love small spaces. ( I do ) ….and making the decorating really important.

Q: WHAT HAVE BEEN SOME OF YOUR BIGGEST CHALLENGES IN GETTING TO WHERE YOU ARE NOW, AND HOW DID YOU OVERCOME THEM?

A: My biggest challenges in building houses have been that I design and build so organically and really care about showing and using the human hand in the process. Some of my challenges are communicating with people who have a very different design sensibility. . My design process is based on "Pattern Language,"  a life-changing book that is my bible. It is the opposite of modern, contemporary building and designing methods. It is all about emotional resonance and what makes people feel comfortable in an environment.

Building and decorating houses are the best things I can imagine…I just love it. My career has been the making of me: many of my spiritual tests have come through this work. I've had to learn patience, discipline, courage and the ability to deal with people (and difficult councils and neighbours) throughout the world. I have been amply rewarded in every way from doing this and I think it's because I enjoy doing it so much that I forget about the challenging times.

Q: WHAT ADVICE WOULD YOU GIVE TO THOSE JUST STARTING OUT ON THEIR CREATIVE JOURNEY?

A: Just have fun and have lots of courage. They are wonderful ingredients for any journey and especially for life. I feel so grateful to be in the design world, I love the amazing people I've met through it…it is so intensely positive, creative and fun. Building and decorating houses is the best thing I can imagine…I just love it.  My career has been the making of me…many  of my spiritual tests have come through this work. I've had to learn patience, discipline, courage and the ability to deal with people and difficult councils and neighbours in different countries. I learned a lot and Murray has been the person who has been the biggest example of how to do it with grace. I think its because I enjoy building it so much I forget about the challenging times.

Q: TELL US ABOUT THE PICTURE YOU HAVE SENT US?  WHAT IS SPECIAL FOR YOU IN THIS AREA OF YOUR HOME:

A: I included a photograph of three seriously ancient antique blue and white pots from Persia…. They have landed up on my new fireplace in my beach house. They look made for each other. I bought the pots when I was 25, I had just got married and moved to London. I walked into a Christies auction and when I saw these, I stuck up my hand and bid for them. I was overjoyed that I got them and fell in love with the whole idea of auctions. Throughout the 80s and 90s, I was a regular visitor to auctions. The new internet auction houses like sales-room are addictive as you can put alerts out for something obscure. Last year I was obsessed with Donegal carpets. Every week a new one would appear in my inbox. I had to stop it. Anyway, these pots have come with me around the world, living in our last beach house for thirty years…they have been to Sydney, London and Cape Town and are now ending up in Plett. They are old friends and hold so many happy memories. I include the photograph of the fireplace that the three pots are sitting on…I have kept the  photographic reference for thirty years if not more…I've been dying to build it for all that time. Finally, this was the right house. It was a design dream that came true.

Q: WHAT ARE YOU DOING AT HOME TO KEEP BUSY? IS THERE ANYTHING YOU HAVE TAKEN ON TO CHALLENGE YOURSELF DURING THIS TIME?

A: Im doing three courses. One on history, one on a platform called Gaia called Rewired, and one at Cousera run by Yale on the study of happiness.

I've have got into a rhythm of getting fit by doing a proper serious walk every day.

I have started to meditate for over an hour a day…doubling my usual 30 minutes. Its helped me keep calm.

I do a lot of zoom meetings and listen to talks on the How to Academy platform.

I've just built a house in Plett and am finishing it while I live in it, decorating it and having such fun decluttering at the same time. Going through old photographs has been the best fun of all.

I haven't watched Netflix or one series as I've been too busy.

Q: HOW HAS THE PANDEMIC AFFECTED YOUR BUSINESS, AND DO YOU SEE YOUR BUSINESS CHANGING OUT OF THIS EXPERIENCE?

A: This pandemic has really affected my new business which is exclusive trips to India especially geared towards interior designers…introducing them to the best India has to offer in our world… extraordinary carpet designers, fabric designers, embroiderers, inlaid work and fabulous textiles and block printing. Also in London, we are creating Insider days for people interested in design and unique shops in London. I'm also doing the same in South Africa with a safari added on. Hopefully next year.

Q: WHAT IS THE BEST ADVICE YOU HAVE EVER RECEIVED, EITHER PROFESSIONALLY OR PERSONALLY?

A: That I'm powerless over people, places and things. I'm only powerful over myself, my reaction to life and what happens to me. This advice has helped me daily in my career and life and especially now during this pandemic.

Best decorating advice was from Tom Parr of Colefax and Fowler fame in the 80s and he said, always have a huge bedside table. It changed my life and I always have a huge one, it is where I operate my entire life.…it is the centre of my world.